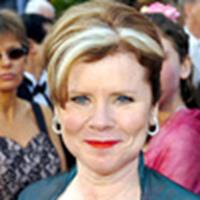 Imelda Staunton
"I am Umbridge" so says Staunton
October 19, 2005 at 9:11 AM ET
Geri HPANA (via News Tip)

harry potter and the order of the phoenix, order of the phoenix, imelda staunton, prof. umbridge
---
A little over two weeks ago we told you

that it was being reported that Imelda Staunton had been cast as Prof. Umbridge in Harry Potter and the Order of the Phoenix, we are now getting reports that she has confirmed this on British TV show This Morning

on ITV.
According to our tip:
Imelda Staunton

was interviewed on ITV's This Morning talking about her current role in Nanny McPhee but also confirmed her upcoming role as Dolores Umbridge in Harry Potter and the Order of the Phoenix. She said that she would be starting filming next year, and is unsure how her 11-year-old daughter will feel about her playing Professor Umbridge; she is looking forward to playing a nasty character! She even gave us an inkling of the voice she may use while playing the part!
We are still waiting to receive official word from Warner Bros., but as soon as we do we will let you know.
Thanks to Daniel for the tip.