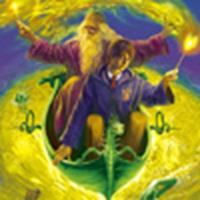 Ukrainian cover 'HBP'
Ukrainian 'Half-Blood Prince' cover
October 2, 2005 at 11:14 AM ET
Geri Harry Potter Fan Zone (via RedFlu.com)

harry potter and the half-blood prince, half-blood prince, book 6
---
We now have the first look at the Ukrainian cover

for Harry Potter and the Half-Blood Prince. The cover features Harry and Dumbledore crossing the lake in the cave, I do have to say that this cover is one of the brightest of any book cover I've ever seen.
There is no release date for this translation as of yet.
UPDATE: Thanks to Neutron for letting us know that the translation by Victor Morozov will be released on October 6th.