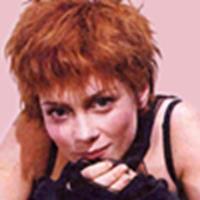 Anna Friel
Anna Friel hopes to be cast as Tonks
September 19, 2005 at 10:26 AM ET
eudaemonia MuggleNet (via Film Focus)

nymphadora tonks, harry potter and the order of the phoenix movie, harry potter and the half-blood prince movie, anna friel
---
British actress Anna Friel

recently stepped up to express her interest in portraying Nymphadora Tonks in the upcoming Harry Potter movies, Order of the Phoenix and Half-Blood Prince (and likely, movie 7). According to an article in Film Focus, the part would be 'ideal.'
After talks emerged from Potter boards that she would best portray our favorite metamorphmagus -- quite possibly due to her personal connection to Remus Lupin actor David Thewlis -- Anna responded:
I don't know if it'll happen but I'd absolutely love to play Tonks. I'd absolutely love to. It's my dream part!... I'm sure they're going to go for some bigger names but I'd like to.
Update: Thanks to Lauren for the Tonks-like Anna image.