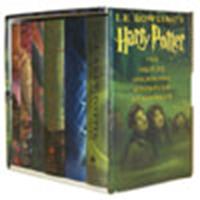 Harry Potter 1-6
New Harry Potter hardcover boxed set coming
August 25, 2005 at 6:16 PM ET
Cheeser HPANA

harry potter box set, harry potter boxed set, harry potter 1-6, all harry potter books, harry potter books
---
While Christopher Paolini's second novel, Eldest

, may have knocked Harry Potter down a notch on Amazon.com's bestseller list

, Scholastic is ramping up to offer a boxed set of all six Potter books to date.
A new image of the set is available at Amazon:
Harry Potter 1-6 Boxed Set

It will cost about $100 and include hardcover editions packaged in an artwork-covered case. Amazon says it will be available October 1, as we reported in June.
Thanks to HarryLatino.com

for the tip.