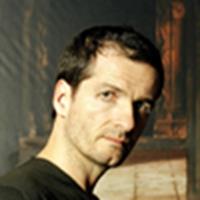 David Heyman
Heyman on 'Goblet of Fire' and 'HBP'
July 18, 2005 at 10:07 PM ET
Geri HPANA (via Sci-fi.com)

harry potter and the goblet of fire, goblet of fire, david heyman, harry potter and the half-blood prince, half-blood prince
---
David Heyman

, producer of the Harry Potter movies attended Comic-Con this past weekend in San Diego to promote his new television series, and while there discussed

Goblet of Fire as well as the latest Harry Potter book.
Heyman on Goblet of Fire:
It's going very well. We had a test screening last week, and the response seemed to be very positive. Some are saying it's the best yet. Hope they're right. But, you know, ... the film's coming out in November, so we're still in the middle of post, and we are ... rushing to the finish line. A lot of visual effects to finish and some editing tweaks.
Heyman on Half-Blood Prince:
The books are great. Jo's done a brilliant job, and this book ... is a progression from the last. ... It's getting darker. It's getting edgier. And it's getting more mythic. ... The world, the story, ... is expanding. And I think it's really exciting.