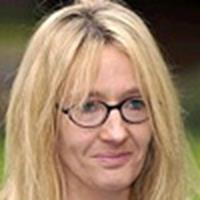 JK Rowling
Rowling tops Amazon's author list
July 8, 2005 at 1:17 PM ET
Geri Yahoo! News (via ABC News)

---
Amazon has named

Harry Potter author JK Rowling their number 1 'best-selling' author, beating out Shakespeare, Dan Brown and Dr. Seuss.
Rounding out the top 10 was:
Spencer Johnson of Who Moved My Cheese? fame, romance novelist Nora Roberts and The Da Vinci Code author Dan Brown, Dr. Seuss, John Grisham, Stephen King, J.R.R. Tolkien, Left Behind novelists Tim LaHaye and Jerry Jenkins and business writer Jim Collins.