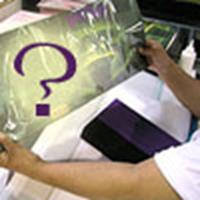 'Half-Blood Prince' book jacket
First peek at backside of 'Half-Blood Prince' jacket
July 7, 2005 at 9:58 PM ET
Cheeser The Leaky Cauldron (via Book Wholesalers, Inc.)

harry potter and the half-blood prince, harry potter 6 cover, harry potter book 6 cover, harry potter book jacket
---
Book Wholesalers, Inc., a book supplier to U.S. public libraries, has posted

a small report on their recently received shipment of Harry Potter and the Half-Blood Prince including a tiny picture of the backside jacket.
If you're trying to stay spoiler-free, you might want to pass on this one although it's difficult to see any detail.
UPDATE: Scholastic has officially released a much higher quality version of the art on the back side (without text). From their press release

:
The back cover depicts Ron and Hermione as well as two other Hogwarts students looking at "the Dark Mark." Drawn in the same green tones as the front cover, GrandPré has created another incredible piece of art that captures the essence and mystery of the Harry Potter books.