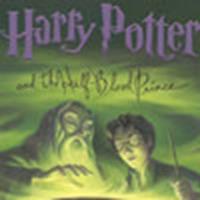 U.S. cover
Call to boycott 'HBP' by environmental groups
July 7, 2005 at 9:30 AM ET
Geri HPANA (via New York Times)

harry potter and the half-blood prince, half-blood prince, book 6
---
Environmental groups Greenpeace and the National Wildlife Federation are asking

Harry Potter fans in the U.S. not to buy the Scholastic version of Harry Potter and the Half-Blood Prince but to instead purchase the book from Canadian publisher Raincoast Books because it is printed on recycled paper.
Raincoast publishes the Harry Potter books on 100% post-consumer recycled paper, whereas Scholastic have disclosed that they use only paper that did not come from ancient or endangered forests.
Ms. Rycroft, campaigns director of Markets Initiative, a conservation group in Canada said:
If we get Harry Potter and the Bible, that pretty much covers the best sellers. Scholastic has failed to really meaningfully step forward to have Harry printed on the most environmentally friendly paper that it can be.
Meanwhile, a spokesman for Scholastic, Ms. Kyle Good commented:
I think the fans who know Scholastic and the people who buy from Scholastic understand that we are an environmentally concerned company and we don't endanger forests ever with the paper we use.
Some larger publishers in the U.S. are concerned about the lack of forest-friendly paper as well as the cost and quality of the paper. Ms. Rowling's agent, Neil Blair from the Christopher Little Literary Agency said the author would not comment on the matter.
If you do choose to order your book from Canada please note that it will cost you $2 more, not including extra shipping costs. You can also check out this story

from the BBC.