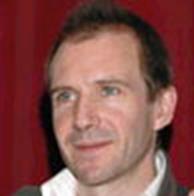 Ralph Fiennes
Ralph Fiennes featured in 'Entertainment Weekly'
June 17, 2005 at 3:12 PM ET
Geri HPANA (via Entertainment Weekly)

ralph fiennes, jk rowling, mary grandpre
---
This week's issue of Entertainment Weekly features The 122 People & Things we Love This Summer - The Must List. Included on the list at number 13 is Ralph Fiennes, who will be portraying Lord Voldemort in Harry Potter and the Goblet of Fire in November and Harry Potter illustrator Mary GrandPré, at number 69. The magazine also has a small tidbit

on the selling of Harry Potter and the Half-Blood Prince.
Ralph on Lord Voldemort:
Immoral Fixation: So how does one play the incarnation of evil? "Good question," says Fiennes, laughing. "My inclination was to underplay it, but you can't underplay Voldemort. He is evil. What I wanted was a you-never-know-what-he'll-do-next quality. My nephews and nieces visited the set-- they were quite taken aback. Probably because I was bald."
Scans of Ralph's article are here

and here

.
Mary GrandPré must have

:
Not Tonight, Honey, I Have a Confidentiality Agreement: "[My husband] leaves me alone. He knows I could get into big trouble if I shared secrets.... He's a fan, though. He reads them after they come out."
The current issue of the magazine is on sale now. Thanks to Page for the tip and the scans.