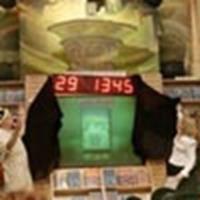 Scholastic's countdown clock
Scholastic's Levine and Marcus discuss 'Half-Blood Prince'
June 17, 2005 at 7:33 AM ET
Geri The Leaky Cauldron

harry potter and the half-blood prince, half-blood prince, book 6, scholastic
---
Yesterday afternoon, Harry Potter publisher Scholastic unveiled a 30-day countdown clock at their Manhattan store. Barbara Marcus and Arthur Levine, two of the few people who have actually read the book, were on hand to pull the curtains back and to give their thoughts on the books.
Mr. Levine had to say:
[Fans] will like the fact that they are finally getting a lot of answers ... You have moments when you say, 'Wow, Harry is really growing up,' which is not something you would have said three books ago. ... Gosh, Hermione? You know, 'You go girl.'
A report, pictures and brief video from the event can be seen here

.