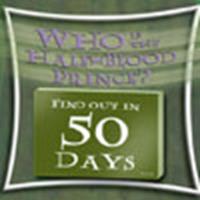 Upcoming ad for HBP
Days dwindle to Harry Potter 6
March 30, 2005 at 12:40 PM ET
Cheeser HPANA (via Scholastic)

harry potter 6, harry potter book 6, harry potter and the half-blood prince, hbp
---
With just over 100 days until the July 16 release of JK Rowling's Harry Potter and the Half-Blood Prince, U.S. publisher Scholastic is preparing a multimillion dollar marketing blitz

to stir up excitement.
At the 50 day mark on May 27, Scholastic will ship 40,000 of these countdown clock standees (334KB JPG image) to bookstores.
The base theme message "Who Is The Half-Blood Prince?" will appear on airplane video screens, electronic billboards, and online. The New York Times on July 10 will run a crossword puzzle dedicated to the book. Fans will also receive lightning-bolt scars at midnight with their books.