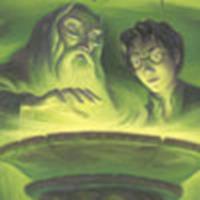 Scholastic's book 6 cover
'Half-Blood Prince' book jackets revealed
March 8, 2005 at 7:59 AM ET
Geri HPANA

harry potter and the half-blood prince, half-blood prince, book 6
---
The British

and American

publishers of Harry Potter have posted the jacket covers for Harry Potter and the Half-Blood Prince. The children's British versions by Jason Cockcroft, shows Harry and Dumbledore in rings of fire and the adult version is from a photograph by Michael Wildsmith showing a tattered book called Advanced Potion-Making.
The Scholastic cover by Mary GrandPré was debuted this morning on NBC's Today

show (click for video!). On the American edition, Harry and Dumbledore are looking into what seems to be a pensive.
Click here for all three covers (biggest available online).
Update: Read Raincoast Books' press release

, Scholastic's press release

, and Bloomsbury's press release

. Also, see this photo of artist Mary GrandPré at her studio

with the book cover on her desk.