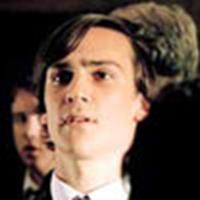 Henry Lloyd-Hughes
More casting information for 'Phoenix'
March 4, 2005 at 1:28 PM ET
Geri The Leaky Cauldron (via CBBC Newsround)

harry potter and the order of the phoenix, order of the phoenix, henry lloyd-hughes, roger davies
---
CBBC Newsround has additional information

about the casting process for Harry Potter and the Order of the Phoenix, reporting that a script won't be finished for months and currently no one knows what characters will even be in the movie.
According to a spokesperson for Warner Bros.:
We don't automatically do open casting calls. We only do them when it's particularly challenging to find the correct person for a particular part.
Newsround has also posted a picture of actor Henry Lloyd-Hughes

(from the Rotter's Club) who plays Ravenclaw Quidditch captain Roger Davies. If you remember Davies takes Fleur Delacour (Clémence Poésy) to the Yule Ball in the movie.