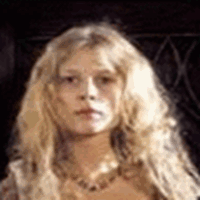 Clémence Poésy
Fleur Delacour cast for 'Goblet of Fire'
June 14, 2004 at 1:31 PM ET
Geri CBBC Newsround

---
CBBC Newsround is reporting

that French actress Clémence Poésy

has been cast as Fleur Delacour for the upcoming Harry Potter and the Goblet of Fire.
Ms. Poesy is currently in England rehearsing with filming to start in July. You can view more pictures HERE

.
We now have all our champions cast for the Triwizard Tournament -- Cedric Diggory

(Robert Pattinson), Viktor Krum

(Stanislav Yanevski), Fleur Delacour (Clémence Poésy) and Harry Potter (Daniel Radcliffe). Newsround is also reporting that with the exception of Dan, none of the other casting has been officially confirmed by Warner Bros.