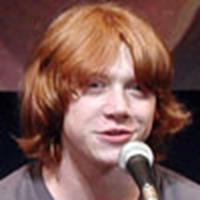 Rupert Grint
Rupert Grint multimedia madness
February 17, 2005 at 12:29 AM ET
Cheeser RupertGrint.net (via Various)

rupert grint, down with skool, an audience with al murray
---
When it rains, it pours, as the saying goes.
Some hi-res pictures of Rupert Grint from his recent visit to the UK show An Audience With Al Murray have popped up, courtesy of RupertFan.org

:
The following pictures and audio come from Rupert Grint Media Source

:
This BBC radio broadcast featuring Rupert as the main character in Nigel Molesworth's Down with Skool will be quite an experience for American listeners:
Down With Skool
(6.5MB, Windows Media format)
Right-click and choose "Save Target As..."
It's based on a series of books published in the 1950's and 60's, containing "diaries" of a mysterious chap named Nigel Molesworth

, who picks apart the British school system with dry wit and sarcastic humor. A rare, out-of-print collection currently goes for over $235 on Amazon.com

but a listing we found on eBay starts at just $19.99

.
Rupert plays the character Ron Weasley in the Harry Potter films. He said recently that he plans to continue the role for Order of the Phoenix, the fifth in the J.K. Rowling book series and Warner Bros. films.