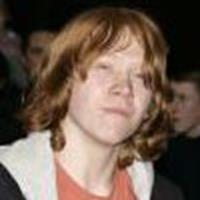 Rupert Grint
Rupert Grint gabs about life, new photos abound
February 7, 2005 at 11:56 PM ET
Cheeser HPANA (via Various)

rupert grint, ron weasley, harry potter and the goblet of fire, harry potter and the order of the phoenix
---
The Ron Weasley actor told French magazine One he has little desire to couple with Hermione Granger in upcoming Harry Potter movies.
"Everyone expects that Ron and Hermione will go out," said Rupert Grint, "but I don't think that would be an effective finish. I must say that this idea doesn't delight me... At the moment, I have no desire to play the romantic scenes. I already had a lot of trouble with certain scenes in Prisoner of Azkaban in which I had to hold Emma's hand, then be embarrassed."
Scans of the article, courtesy Le Coin Ensorcelé de Harry Potter

Grint also discussed what he'd like to do outside of acting, how similar he and Ron are when it comes to finishing homework, and whether or not he'll be sticking around for Harry Potter and the Order of the Phoenix. A full translation

can be seen on Veritaserum.
Rupert was also snapped by photographers outside a recent filming of British television show An Audience with Al Murray, for which several Weasley family members apparently appeared:
Thanks to RupertGrint.net

and Emma-Watson.net

.
Finally, rounding out Rupert news, the actor is in negotiations to star in a new film, Driving Lessons, according to the Rod Hall Agency Ltd. and Actual Management. Veritaserum got confirmation

from a representative, who said: "It is the early days but I can confirm we are in negotiations for Rupert to star in the movie, due to shoot later this year."