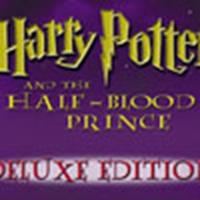 HBP Deluxe Edition
Deluxe 'Half-Blood Prince' to include 32-page art insert
February 4, 2005 at 2:18 AM ET
Cheeser HPANA

harry potter and the half-blood prince, harry potter and the half-blood prince deluxe, harry potter 6 deluxe edition
---
The deluxe edition of Harry Potter and the Half-Blood Prince, book 6 of 7 in JK Rowling's popular series, will feature unique drawings by American artist Mary GrandPré, who has illustrated all previous U.S. editions to date.
The book will also have a slipcase and include a 32-page insert with "black-and-white art from the book blown up to full-page size," according to updated listing information on Amazon's and Barnes & Noble's web sites.
Pre-ordering is available, and the book is already #150 on Amazon's bestseller list:
This new information is slightly more descriptive than what was originally reported, specifically the part about "unique art" which, presumably, will not appear in the regular edition.
The deluxe version is listed at 704 pages. UPDATE: An equivalent UK edition is being produced as well, and will be available October 2005, according to Bloomsbury representatives. Thanks to Kerstin for the tip!