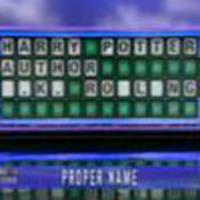 Harry Potter as Wheel of Fortune answer
Google's new video search helps 'Harry' fans
February 1, 2005 at 7:59 PM ET
Cheeser HPANA

google video, google, harry potter fans, harry potter
---
Search engine Google's new video search

feature adds another useful weapon to Harry Potter fans' arsenals when looking for new tidbits and mentions of their favorite fictional hero.
The tool, introduced

this week, hunts through indexed closed-caption texts that the company captures from various television networks, looking for a user's search phrase. A preview page shows still-frame images of the actual video at the precise time the search phrase is mentioned.
As of this article, searching for "harry potter"

brings back mentions of the boy wizard on:
an infomercial for a speed-reading product
a puzzle on the TV show Wheel of Fortune
an episode of PBS' kids series Buster
an episode of ABC's Extreme Makeover: Home Edition, in which a Braille edition of one of the Potter novels is found in blind and autistic 14-year-old Lance Varden's bedroom
an episode of The Ellen Degeneres Show
a discussion on C-SPAN's Book TV show
and news of author JK Rowling's birth of her baby daughter, Mackenzie Jean Rowling Murray.
The service also tells when a certain show will re-air. No doubt Harry Potter fans will find this new resource fun and invaluable.
Read more about Google Video

at Google's web site.