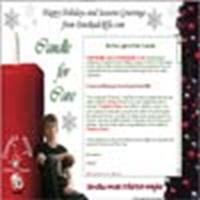 Candle for Care Page
'Candle for Care' a time to share
December 8, 2004 at 9:44 PM ET
Rhyan DanRadcliffe.com

daniel radcliffe, demelza house, candle for care
---
DanRadcliffe.com

and DanRadcliffe.co.uk

have raised £831.47 ($1,591.80) so far in their fund raising efforts for the 'Candle for Care' appeal, that was announced in November. Those who would like to make a donation to Demelza House and send their Holiday wishes to Daniel in a professionally printed book for Christmas, will need to get their donations and wishes for Daniel in by December 17.
Candle For Care Information Page

It was also reported that they will be sending out special thank yous on Christmas Day to all of the people who donate and forward their online receipts and thoughts for Daniel. Be sure to include the c/o Daniel Radcliffe when making donations online; otherwise, the donation will not be counted as part of the fundraiser.