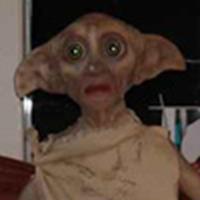 Life-size Dobby
Bring Dobby home for Christmas
November 25, 2004 at 12:26 AM ET
Geri HPANA (via HP4U.co.uk)

---
Thanks to Ty from HP4U.co.uk

for letting us know that they are auctioning

off a life-size, promo Dobby from Harry Potter and the Chamber of Secrets. Dobby has been signed by James & Oliver Phelps, Matthew Lewis, Christian Coulson, Toby Jones (the voice of Dobby) & last but not least JK Rowling. Rowling signed Dobby's clothing while participating in the Edinburgh Book Festival which took place this past August.
Description of Dobby:
This is the original PROMO Dobby and NOT one of the 2003 replica's that were sold in stores, ON Ebay, without stand, etc. This guy comes with his original 2-part base featuring the Chamber of Secrets logo etc. Dobby measures approx 2.5 ft tall & around 1 ft wide. The detail is absolutely amazing, to say he is lifelike would not be enough, he stands on a 2-piece strong card display base, which is approx 1.5 ft high and in excellent condition.