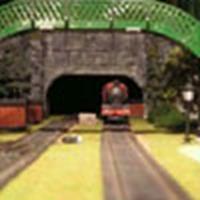 Hogwarts train
Love of Harry Potter led to creative creation
November 15, 2004 at 11:35 AM ET
Geri HPANA (via HP4U.co.uk)

harry potter fans, harry potter models, harry potter toys
---
One fan's love of Harry Potter has led him to create a 1/72 scale reproduction of Hogwarts castle, as well as the surrounding Hogsmeade, Hogwarts Express, The Burrow and a fully playable Quidditch pitch and dungeon games. The project took two years to complete and fills an entire room in the creator's home.
Castle/Hogsmeade


This Hogwarts Castle was created because of the love of Harry Potter and a passion for Wargaming by its owner Mr. John Colwell. Based essentially on the first and second movies, it took around 2 years from conception to completion. From basic designs of the layout, through images created by JK Rowling, to the amazing reality of the images produced by Warner Bros. the main inspiration was looking at the movies.

Dungeons


Understanding what a huge undertaking it would be, the actual task of creating it was commissioned to a professional model maker, Keith Warren from Realistic Modeling Services. Originally the project was for a 10mm Castle but rapidly changed to 1/72nd because of finding an 'HP Dicers' game (made by Mattel). This basic Mattel game used 1/72nd scale Harry Potter characters inserted into the dice themselves. The figures looked great, so, they were cut out of the dice and mounted onto bases. A few figures were customized, but as these figures were limited, again, the superb skills of Keith Warren were required to produce all the figures, which were left out of the Mattel game and would be essential for an accurate and exciting adventure, including Dobby, gnomes and fully playable Quidditch teams. Once the rules for the Quidditch game were finalized there is no end to the adventures possible!

Quidditch Field


If you have no knowledge of Wargaming or model making, all the figures come as bare metal, therefore each individual tiny part has been meticulously hand painted, being another enjoyable aspect of owning such a wonderful creation. As the Castle was under construction, Hogsmeade Village become essential so a wonderful Hornby Hogwarts Express could travel the grounds; changing the project into a huge diorama, which now takes up all the space in a dedicated room. The Castle and grounds cover around 1 meter square and the rest being the railway and Hogsmeade. The Hogsmeade element of the project was completed before the release of the third film so was essentially guesswork using ready-made Hornby buildings. Plans are now underway to make scratch built Elizabethan buildings, making Hogsmeade authentic. Although it shouldn't be there, 'The Burrow', is just too great a place to be left out!

Thanks to HP4U.co.uk

for bringing this to your attention.