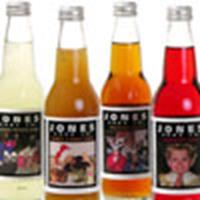 Jones Soda
Oddly flavored sodas evocative for Harry Potter fans
November 9, 2004 at 11:28 PM ET
Cheeser Yahoo! News (via AP)

turkey and gravy soda, jones soda, bertie bott's every flavor beans
---
With Thanksgiving just around the cover, Jones Soda Co.

has introduced a set of strangely flavored drinks thanks to the unexpected success last year of the company's Turkey & Gravy Soda.
Familiar to Harry Potter fans who consumed loads of dirt, vomit, booger and salmon flavored jelly beans due to the popularization of fictitious-turned-real Bertie Bott's Every Flavor Beans, the concept is based on our natural fascination with new and bizarre things, say experts.
The novelty proved so popular that two bottles of last year's Turkey & Gravy Soda

were fetching bids over $60 on eBay after stores sold out.
This year Jones plans to produce up to 15,000 five-packs of the 12-ounce bottles, which come complete with utensils (a straw and a toothpick). The sodas may not be as satisfying as a real holiday meal, but they can boast being both calorie- and carb-free, not to mention vegan and kosher.
Beginning Thursday, they'll be on sale at some Target Corp.

stores throughout the country, and at other retailers, for between $14.95 and $16.95, with proceeds benefiting Toys for Tots

.
This year's flavors

are:
Turkey & Gravy Soda
Cranberry Soda
Mashed Potato & Butter
Green Bean Casserole
Fruitcake Soda
Bon appetit.