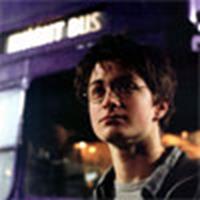 Harry Potter
Exclusive 'Prisoner' DVD content escapes
October 6, 2004 at 7:07 PM ET
Cheeser HPANA (via Mystic Magic)

harry potter and the prisoner of azkaban dvd
---
You know that part of a DVD that plays as it's loading up to the main menu?
We've got an exclusive sneak peek, courtesy Ethan of Mystic Magic

, of what you'll see when you buy Harry Potter and the Prisoner of Azkaban, unwrap it and begin playing -- the first of many viewings -- in November.
Take it away, Ernie! (Nearly there, nearly there...)
Bonus: Thanks to Veritaserum

, here's a shiny new ad

for the DVD as seen in Disney Magazine.
Share and enjoy!