HP Fan Trips 2004 roundup begins
July 24, 2004 at 2:37 AM ET
Cheeser HPANA (via Friends of the Phoenix)

hp fan trips, harry potter tours, harry potter vacation, harry potter trip, harry potter tour
---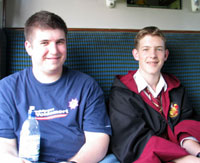 Jeff (HPANA) and Eric (MuggleNet)
on the Hogwarts Express
The Harry Potter and the Prisoner of Azkaban film may already be fading from the forefront of fans' minds -- turning instead to Goblet of Fire and book six -- but for the fans who actually lived and breathed Potter in England last month, memories of a lifetime will live much longer.
Friends of the Phoenix, a new site dedicated to supporting Harry Potter fans, is hosting a written report

of the magical HP Fan Trips

2004 tour. From the planning stage, to a trip on the "Hogwarts Express" #5972 steam locomotive, to the farewell feast -- all is documented in the report. Videos and hundreds of pictures will be posted in the coming days, contributed by many of the participants.
Fans who weren't able to attend this year's tour (or didn't hear about it in time) will be happy to learn HP Fan Trips is currently organizing their 2005 package. Stay tuned to your favorite HP fan sites for future details.