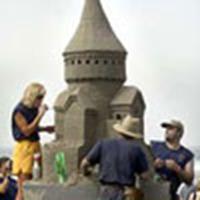 Hogwarts sandcastle
Hogwarts sandcastle wins competition
July 12, 2004 at 6:21 PM ET
Cheeser Wizard News (via San Diego Union-Tribune)

u.s. open sandcastle competition, sandcastles, building sand castles, harry potter sand castle
---
At the 24th annual U.S. Open Sandcastle Competition

this weekend, teams battled on the beach

to create the most realistic sand sculpture possible in just five hours.
A gigantic replica of Harry Potter's Hogwarts School of Witchcraft and Wizardry allowed its magical masters to take home the grand prize of $5,000.
The winning team, which has been together for over two decades, watched in horror at one point when a side of the castle fell off. "I'm stressing," said Carolyn Gurich, one of the group's ten members. "I never thought in my entire life that I would be so concerned with the consistency of sand."
Last year, an amateur group took fourth place in the "replica" category with their Hogwarts castle and book sculpture. And just last month, Harry made another appearance

in the dirt in an Illinois sandcastle building contest.