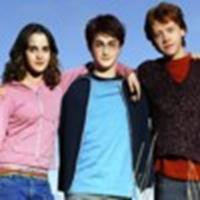 Potter trio
Harry Potter on cover of Entertainment Weekly
June 4, 2004 at 8:21 PM ET
Geri HPANA (via Entertainment Weekly)

harry potter and the prisoner of azkaban movie reviews
---
This weeks issue of Entertainment Weekly

has put Harry Potter on the cover and has some new articles discussing the scary new world of Prisoner of Azkaban as well as what's next for the series. This week's access word is tvsummer -- please use that to read any article. Just click on the story and then enter in access code to read the article.
The issue has Harry and Hedwig on the cover and has some pictures that we have all seen before, but the article has some interesting tidbits

:
The franchise's screenwriter Steve Kloves may not return, and there's uncertainty with the kids, too. Where once Warner Bros. seemed willing to replace them the second they outgrew their roles or puberty hit them with an ugly stick, the studio now seems eager to keep the trio intact; it realizes that an identification has been made. According to one source, Warner Bros. president Alan Horn even made a personal appeal to Watson to return for Goblet. All are taking it one film at a time, but Watson is said to be the one who deliberates the most carefully. "It's only just now hit me how big this is. I don't know why," says Watson. "Sometimes, it's flattering. Other times, it's [big sigh]."
Harry during Quidditch match
Scans of the six-page spread are available for viewing. Click on the images for a larger view (files range from 162.9Kb to 319.8Kb):