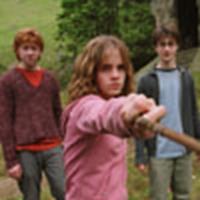 Harry Potter
Harry Potter most beloved and bankable characters in Hollywood
May 28, 2004 at 4:44 PM ET
Geri HPANA (via Entertainment Weekly)

---
In this week's print issue of Entertainment Weekly

Harry Potter is No. 1 on their list of Hollywood's most beloved & bankable characters ahead of Shrek, Spider-Man & Darth Vader.
According to EW's first-ever ranking of Hollywood's Most Powerful Characters, in which box office, ratings, marketability, reconcilability, and longevity were factored into judging who's living the ultimate fairy tale:
No. 1: Gryffindor wins! No character casts a spell across such a range of products, demographics, and nations as Hogwarts' wizard. J.K. Rowling's first five Potter novels have sold 250 million copies worldwide, and anticipation for June 4's The Prisoner of Azkaban is flying higher than a golden snitch. Still to come: two books and four movies.
Rounding out the top 10: Shrek, Spider-Man, Darth Vader, James Bond, Batman, Santa Claus, Bart Simpson, Spongebob Square-Pants & Wolverine.