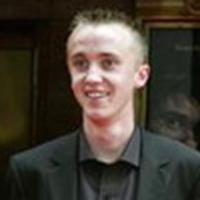 Tom Felton
Tom Felton on girls, fishing and Draco
May 25, 2004 at 9:01 PM ET
Geri HPANA (via The Sun)

Tom Felton
---
In the third part

of their weeklong series of interviewing the Harry Potter stars, The Sun interviews Tom Felton where he discusses how playing Draco hasn't helped him in the girlfriend category, his upcoming school tests & his wish to pass his driving test to acquire a BMW.
Tom on girls:
"Apparently girls like bad boys — but it's quite the opposite with myself. Draco isn't the girls' cup of tea in my experience. Japanese girls are huge fans. It's nice to get a positive response. I got a watch yesterday and I've been sent a spoon for good luck. I get lots of good luck charms."
Tom on fishing:
"Carp fishing is my passion — I haven't based my life around acting."
Tom on Draco:
"Draco has some serious issues. But I find it is nice to be the snotty kid. As long as he has the comments to hit people on their sore spots as opposed to just being arrogant, then I am happy."