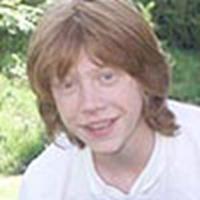 Rupert Grint
Rupert on awkwardness of romance in 'Prisoner'
May 24, 2004 at 10:56 PM ET
Geri Wizard News (via The Sun)

Rupert Grint
---
Rupert Grint was recently interviewed

by The Sun in the UK and talked about his audition tape for the part of Ron in the Harry Potter movies, fan mail, as well as the awkward scenes that Alfonso Cuarón filmed for the movie.
Rupert on the awkward scenes:
"There were some awkward scenes. There was a lot of hand-holding between me and Hermione. There were hugs as well but they got cut out. It's weird doing romance. I've never been attracted to playing a romantic lead."