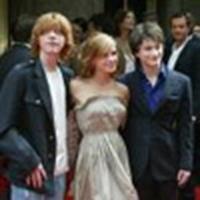 Rupert, Emma & Daniel
Pictures and articles from 'Azkaban' premiere in New York
May 23, 2004 at 7:29 PM ET
Geri HPANA (via Various)

red carpet movie premiere
---
Some wire services and newspapers are starting to post pictures and articles from the premiere of Harry Potter and the Prisoner of Azkaban that took place in New York this afternoon.
From Associated Press

From Yahoo

WireImage

Reuters pictures of Daniel

, Emma

, Rupert

& Tom

From Newsday

From The Scotsman

newspaper: Harry Potter mania erupted once more again as the stars stepped out for the world premiere of the film phenomenon's latest adventure. Hundreds of fans burst into screams as the bewildered teenage idols graced the red carpet in New York.
From BBC News

: Harry Potter star Daniel Radcliffe was mobbed by a legion of screaming teenage girls as he arrived for the New York premiere of his latest adventure. BBC also has pictures

online.
Getty Images pictures of the stars, crew and guests

at the red carpet.
We will update this story as news appears and don't forget that HPANA was on the red-carpet & will be posting pictures shortly.