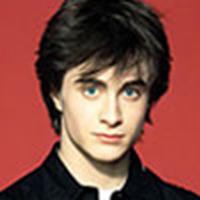 Daniel Radcliffe
Daniel in PARADE Magazine
May 22, 2004 at 11:50 PM ET
Geri DanRadcliffe.com (via PARADE Magazine)

Daniel Radcliffe Harry Potter
---
Parade Magazine

has posted some nice new photos of Daniel Radcliffe from their exclusive photoshoot that will appear in this Sunday's issue and DanRadcliffe.com

have the photos for you to enjoy. Here's a snippet about the article

:
Radcliffe always wanted to be an actor, but his parents were reluctant to let him audition too early. But since his first role, as the young title character in a 1999 BBC/PBS production of Charles Dickens' David Copperfield, he's received critical praise. Radcliffe was not the favorite to play Harry Potter. Prior to casting, British actor Gabriel Thomson and American Liam Aiken were seen as likely choices. But Radcliffe wowed director Chris Columbus and won Harry Potter author J.K. Rowling to his side, securing the role that's made him a star.
Daniel Radcliffe wasn't much of a book worm before landing the role of Harry Potter. "But my parents read a review of the first book and they got it for me," he tells PARADE magazine for this Sunday's issue. "And now I've gone on to read other books that have nothing to do with Harry. I owe that to the first book."
The Prisoner of Azkaban, the third movie in the series by J.K. Rowling, is due out June 4, but Daniel is already hard at work on film No. 4, Harry Potter and the Goblet of Fire. He says it's "too far down the road to say" whether he'll do a fifth, but it looks positive. "I'm still the same age Harry is, and I haven't actually grown all that much."
The usual supporting cast is back for Prisoner, and new cast members include Julie Christie, Gary Oldman and Emma Thompson. "Emma is wonderful," says Daniel, "and very, very funny. But I'm quite upset that I didn't get to do a scene with Julie Christie."
Update: Scans of the article are available online for those unable to get ahold of a copy of the magazine, again thanks to DanRadcliffe.com

.