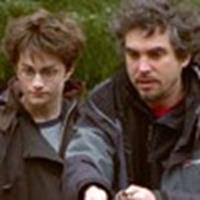 Daniel Radcliffe and Alfonso Cuarón
Four more PoA images
May 21, 2004 at 6:16 PM ET
grae DanRadcliffe.com (via JoBlo.com)

Harry Potter, Prisoner of Azkaban
---
We know you can't get enough of these, right?
JoBlo's Movie Emporium

has posted four more images from Harry Potter and the Prisoner of Azkaban, including the pic below of Harry and Hermione. They also have another picture or Ron and Hermione hiding behind those giant pumpkins, Alfonso Cuarón showing Daniel Radcliffe how to pull Buckbeak's chain, and another of Alfonso Cuarón holding Scabbers as Rupert Grint sits beside him.