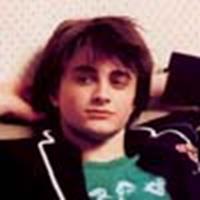 Daniel Radcliffe
Part 2 of Daniel in Empire magazine
May 19, 2004 at 10:00 AM ET
Geri Wizard News (via Empire Online)

---
In April, Daniel Radcliffe gave his first interview

in over two years to Empire magazine. Empire has now posted online a part of their second interview - the whole interview is in their July issue which goes on sale May 28.
From Empire magazine

:
Empire: If you like those directors it must have been pretty exciting for you when Alfonso Cuaron came on board for Prisoner of Azkaban. Did you know his films before?
Daniel: When I heard he was directing it I went and watched The Little Princess and Y Tu Mama Tambien. I watched that alone in the Warner Bros screening room and it made me very excited to be doing the film. And now Mike Newell's come on board I've just started watching all of his films I can find.
Empire: Is there anyone you'd still like to come and work on the films, since all these massive stars seem to be attracted to them?
Daniel: There are a lot of rumours all the time. They said Rowan Atkinson for Voldemort and Hugh Grant's been mentioned for Voldemort and Professor Lockhart. I think they kind of make it up as they go along. One person I would love to work with is Daniel Day Lewis, but it doesn't look like that'll ever happen. Has he sworn off films now?
The rest of Empire's Daniel Radcliffe interview, including exclusive news on Harry Potter 4, can be found in the July issue of Empire, on sale May 28.