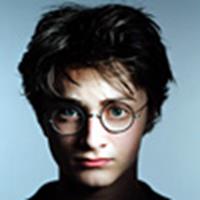 Daniel Radcliffe
New interview with Daniel Radcliffe
May 18, 2004 at 10:19 PM ET
Geri HPANA (via DanRadcliffe.co.uk)

---
Thanks to Page from DanRadcliffe.co.uk

for letting us know that she has posted her interview with Daniel Radcliffe from her recent trip to London to present him with their International Cookbook

. Not all of the questions are new but there are a few nice tidbits included. She has also taped the interview so you can hear what he has to say.
From the interview:
Page: "Just wanted to ask you a couple of questions. To begin with, there's quite a number of new actors on this film. Emma Thompson, David Thewlis, Gary Oldman, of all of the actors that are new on this film, which one has most inspired you and what have you learned from them?"
Dan: "It was probably... the two people that I've found most inspiring, have been David Thewlis and Gary Oldman. Gary Oldman because I've just always been such a fan of all his films, from like The Professional, and The Fifth Element. I mean basically the thing with Gary, that with any film that he's in, his performances will always stand out. It will always carry the film. And like the thing that I never... I don't even know if it went to the States at all, it was a British TV Film called "The Firm" which he was in, and it's about football hooliganism and it's absolutely amazing, I mean he's just so terrifying in it. So he was, it was amazing for me to get a chance to work with him. And David Thewlis because like Gary Oldman he's just a fantastic actor and it's just a privilege to watch them, and to be in the same room with them as they work. They think about the scene and how they approach it, it's just amazing to watch their techniques and watch how they work.
Page: "In the 100 Questions that you answered for the fans, how physically hard was that in the rain?"
Dan: "It was just basically like normal Quidditch in terms of like comfort levels, of Quidditch which is never incredibly comfortable, but luckily they heated the water they were using which was quite nice so it wasn't freezing cold water they were throwing on me or anything. I've now actually seen the film a couple of days ago for the first time all finished and everything and it is amazing and Quidditch is a really fantastic scene. It's really very intense, it's the most intense we've seen Quidditch be, but it is a really fantastic scene and all the hard work that everyone on the set put into it, it's really paid off because it does look amazing."
You can read the full interview HERE

Listen to the interview HERE (7.79 MB) but remember to right-click to download and save to your computer (It may take a few minutes to download.)