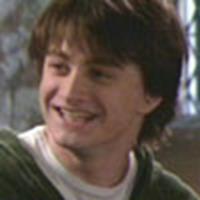 Daniel Radcliffe
Video, pics of ABC's 'Harry Potter' special
May 9, 2004 at 7:21 PM ET
Cheeser HPANA (via ABC)

harry potter preview
---
At the end of tonight's U.S. television network premiere of Harry Potter and the Sorcerer's Stone, ABC aired a special behind-the-scenes program all about the third film, Harry Potter and the Prisoner of Azkaban.
The trio of lead actors (Daniel Radcliffe, Emma Watson and Rupert Grint) talked about the addition of Gary Oldman as Sirius Black, Michael Gambon as Albus Dumbledore, Timothy Spall as Peter Pettigrew, David Thewlis as Remus Lupin and Emma Thompson as Sibyll Trelawney. We also heard from Alfonso Cuarón (director), Chris Columbus (director of the first two films), Dame Maggie Smith (Minerva McGonagall), and a lot more. New scenes from the movie and behind-the-camera anecdotes were also revealed!
The presentation of Harry Potter and the Sorcerer's Stone was also unique - it featured the film with deleted scenes from the DVD added back in where they would've been seen normally.
Click below for videos and screencaps:
If you have difficulty obtaining the video, please try visiting one of the many Harry Potter sites hosting a copy: