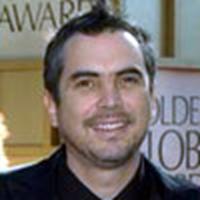 Alfonso Cuarón
Two new interviews with Alfonso Cuarón
May 8, 2004 at 6:54 PM ET
Geri The Leaky Cauldron (via Various)

Alfonso Cuarón
---
Thanks to The Leaky Cauldron

for pointing out two new interviews with Harry Potter director Alfonso Cuarón

. In the interview from the Mexican edition of Rolling Stone magazine he talks about his relationship with the young stars of the movie and in the other interview from AZCentral.com he discusses how he obsessed over the most minuscule of details.

From Rolling Stone magazine

:
RS: Did you feel intimidated doing the third part of Harry Potter because of the unavoidably comparison?
Cuarón: No. When they sent me the script, I was very ignorant about Harry Potter. I hadn't read any of the books or seen any of the movies, until producer David Heyman asked me to please read it, so I did, and I saw great possibilities. I had a conversation with Guillermo del Toro, since I was having doubts about doing it, so he told me that I should do it if I could serve the material completely. In a way it was an interesting exercise for my ego. This time I tried to understand the story and the material. The cool thing was that the universe that it was all ready created made me feel very happy and very calm. The same thing with the cast, that it was already established. Better yet, the cool thing was to make the evolution of the series.
Thanks to Vale from Potter Incantatem

for the translation of the intervew from Rolling Stone magazine.
From AZCentral.com

:
"This is pretty much a film about identity," Cuarón said in his easy but heavily accented English. He had returned to his office down the hall in the SoHo building where post-production work was proceeding feverishly. The shoes were off again. Raking his fingers through his slightly demonic beard, he slumped on one of the sofas, near a huge pile of toys he keeps on the floor for his toddling daughter and any other children who happen to drop by.
"It's about a kid trying to come to terms with being a teenager, with being 13 and having an awareness of things," Cuarón continued. "It's the moment when you realize that the monster is not under the bed or in the closet, but inside you - and the only weapon to fight that monster also resides inside you."