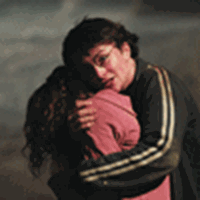 Harry protecting Hermione
'Prisoner' movie trading cards
May 5, 2004 at 10:12 AM ET
grae The Leaky Cauldron (via RonandHermione.com)

Harry Potter, Prisoner of Azkaban, trading cards
---
Thanks to Din of RonandHermione.com

for posting some scans

of the new Harry Potter and the Prisoner of Azkaban movie trading cards, which were purchased at Hot Topic and will also be released in the UK on May 25. Each card has a full picture on a front, and a smaller picture and explanations (including movie quotes and plot details) on the back.
Cards Inc

posted this lovely pic:
The Leaky Cauldron has consolidated scans of nearly all the cards

, and MuggleNet has a gallery

of some of the images as well.