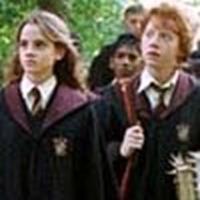 Hermione & Ron
Even more 'Prisoner of Azkaban' images
April 28, 2004 at 9:48 AM ET
grae The Leaky Cauldron (via MuggleThai)

Harry Potter movie, harry potter pictures, Prisoner of Azkaban pictures, prisoner of azkaban movie
---
MuggleThai

has posted 24 new photos from Harry Potter and the Prisoner of Azkaban, along with larger versions of previously seen pictures, which you can view at their PoA Gallery

.
Some of the new images feature Hagrid's Care of Magical Creatures class, Trelawney examining Hermione's palm, as well as a group shot of Hermione, Ron, Fred, George, Percy, Neville, Seamus, (and possibly Ginny), along with several other students, looking up in amusement at something...
Note: HPANA is mirroring these since MuggleThai is no longer available, presumably due to traffic. Thanks to MuggleNet

for tracking down the pictures after they went offline!
Note II: In related news, DanRadcliffe.com has also posted a nice scan of the back cover of TV Guide featuring an ad for the May 9 airing of Harry Potter and the Sorceror's Stone.