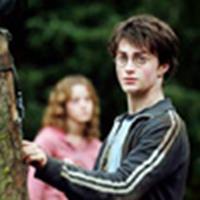 Harry Potter
Newsweek's 'Azkaban' preview
April 25, 2004 at 4:21 PM ET
Geri DanRadcliffe.com

---
Newsweek

is following the lead of every other major magazine and previewing their summer movie list and in the May 3rd issue they have a small piece

on Harry Potter and the Prisoner of Azkaban as well as a brief interview with Daniel Radcliffe.
Daniel on Quidditch from the movie:
"It just looks brilliant!" Radcliffe says. "It's this really big action sequence, and all the raindrops turn to ice and start to cut Harry's face. When we were shooting they were chucking water over me before each take." Pause. "They did heat it, I'm glad to say, which I'd like to think means they like me."
There is also a new picture of Harry & Hermione which we haven't seen before.