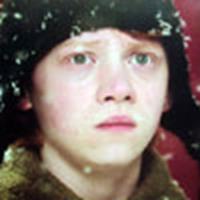 Ron Weasley
Brand new images from 'Prisoner of Azkaban'
April 8, 2004 at 5:37 PM ET
Cheeser HPANA (via Tips)

harry potter pictures, harry potter movie, harry potter and the prisoner of azkaban, prisoner of azkaban pictures, set photos, poa pics, poa set photos
---
We're pleased to be able to bring you over 30 new images from Harry Potter and the Prisoner of Azkaban.
Included are never-before-seen shots of Harry, Ron Weasley, Hermione Granger (with Crookshanks), Draco Malfoy, Professor Remus Lupin and more:
A huge thanks goes to MuggleNet

for helping to host what will surely be high-demand content.
From the new poster book

(thanks to Titiana!):
Set photos from May 2004 issue of House and Garden (thanks to Adriana for the tip and Geri for the scans):
Enjoy!