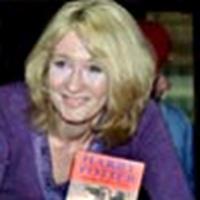 JK Rowling
Rowling wins award for 'Order of the Phoenix'
March 16, 2004 at 8:03 PM ET
Geri The Leaky Cauldron (via WH Smith Book Awards)

JK Rowling, jk rowling, jk rowling pictures, jk rowling book pics, jk rowling pics, jk rowling news, jk rowling photo, jk rowling photos
---
In January we reported that adult readers had a chance to vote for JK Rowling in the WH Smith People's Choice Book Award in the fiction category for Harry Potter and the Order of the Phoenix.
With over 148,000 people voting through the Internet, libraries and stores, Rowling was chosen

over such notable authors as Ian Rankin, James Herbert, Mark Haddon and Colum McCann.
Rowling described the award as "Wonderful. Unabashed adult Harry Potter fans are very dear to my heart, and obviously in the case of The Order of the Phoenix they were the ones who were physically able to lift the book."
Other winners include Dude, Where's My Country? by Michael Moore in the Factual category and The Wee Free Men by Terry Pratchett in the Teen Choice category.