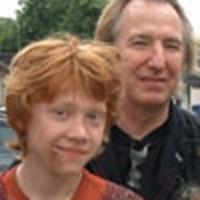 Rupert Grint and Alan Rickman
One fan who really caught the acting bug
March 15, 2004 at 10:45 PM ET
Cheeser HPANA (via Diagon Alley)

alan rickman, prisoner of azkaban set, rupert grint, harry potter and the prisoner of azkaban, harry potter 3, harry potter movie
---
Our sister site Diagon Alley

has posted an exciting account of visiting the set of Harry Potter and the Prisoner of Azkaban

last year by one of its members.
While this particular trip resulted in the fandom's very first look at Gary Oldman as Sirius Black, it was much more than that for the lucky girls who got to meet Alan Rickman and Alfonso Cuarón:
We entered Shepperton Studios, about an hour and a half away from London, on a muggy summer afternoon. Soon we picked up the other girl and her mother, went immediately to the set.
If I had walked in blindfolded, I could have sworn I was in the Forbidden Forest. The Whomping Willow was right there in front of my eyes! The set used real trees and moss and soil and everything imaginable to make it seem like a true forest.
My favourite part of this entire true tale is that, on the way back from the set, poor Alan Rickman fell asleep on my shoulder from his cold, which I caught and named the Alan Rickman bug. I believe I still have it.
Be sure to read the full story

.