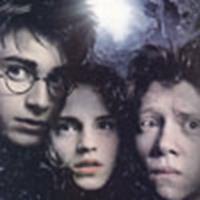 Harry, Hermione and Ron
New 'Azkaban' movie poster
March 14, 2004 at 3:12 PM ET
Cheeser DanRadcliffe.com (via TheSnitch.co.uk)

---
A great new movie poster for Harry Potter and the Prisoner of Azkaban

is up at TheSnitch.co.uk, and it features extreme close-ups of Harry (Dan Radcliffe), Hermione (Emma Watson) and Ron (Rupert Grint) with snow fluttering all around and Dementors hovering in the background.
According to DanRadcliffe.com

, the poster is in the current issue of Nickelodeon magazine.
Update: The Leaky Cauldron now has a larger, unmarked version

available.