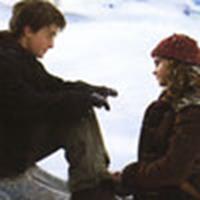 Update: Even more photos from 'Azkaban'
February 15, 2004 at 11:00 PM ET
Cheeser HPANA (via Various)

---
Fan site Salon du Sorciere

has posted some great scans of promotional material containing production stills from Harry Potter and the Prisoner of Azkaban.
Click here to see them

.
Included are Harry and Hermione sitting and talking, Hermione with Crookshanks, and Harry handling Hagrid's Monster Book of Monsters. Thanks to Amy for the tip!
Just yesterday, a new picture of Hermione surfaced. With the movie's release date still months away, Harry fever heats up with every new picture from the film.
Update: Thanks to Winky at Potter World Online

for letting us know that Pottermania

has additional photos from the free HP3 magazine given to Japanese theaters recently:
Also thanks to Amourette for sending in the full gallery

for our viewing pleasure.