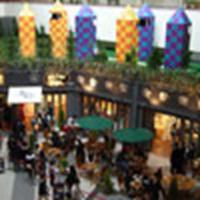 First look at Harry's new Firebolt from 'Azkaban'
February 4, 2004 at 11:05 PM ET
Cheeser HPANA (via Charmed By Dan)

---
Akichoro of Charmed By Dan

got an extremely special treat last weekend. A Japanese shop that offers official Harry Potter merchandise and memorablilia had its grand opening, and she shot some wonderful pictures of the event

, including a couple of props from Harry Potter and the Prisoner of Azkaban.
The store, Harry Potter Collections, is located in a mall

at Queens Square Yokohama

, outside of Tokyo. It will only be open until August 2004.
In addition to Harry's Firebolt (which the shop assured Akichoro was one of the real props used in the film), you can see Professor Trelawney's crystal ball and a Defense Against the Dark Arts schoolbook!
Check out the report and pictures

right now! Thanks ever so much to Hirame for the tip and English version of the report.