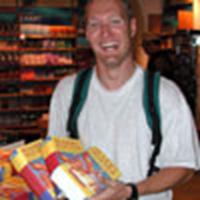 Meet the new breed of 'adultescents'
February 4, 2004 at 1:18 PM ET
Cheeser HPANA (via Guardian Observer)

---
Being obsessed with things like Harry Potter is becoming the new trend for people who are determined not to grow up.
The Observer reports

that books like Potter and Philip Pullman's His Dark Materials have helped double the number of adults reading children's books.
They drive cars that appeal to the child in them - the chunky, toy-like Audi TT sports car or the girlie new VW Beetle complete with vase and plastic flower. They obsess over PlayStation2, go on holiday to Ibiza, tuck a copy of Heat! inside their Financial Times, have given up skiing for snowboarding and enjoy reading Harry Potter and listening to Coldplay and Radiohead as much as their children.
But the inverse can also be said: While some adults crave to satisfy their inner-child, children today are acting a lot older:
Step into the world of the tweenager. Not for him or her the frivolities of youth. These savvy youngsters aspire to the grown-up lifestyle of the ultimate tweenagers, US idols Mary-Kate and Ashley Olsen, who run a multi-billion pound tween business selling high fashion, grooming, magazines, mobile phones, and computers to eager 11-19-year-olds.
When they move out of their 'tweens', these driven youngsters get jobs sooner and often work harder than their parents.
Adults, be sure to read the rest of The Observer's fascinating article. It even includes a list of things to do if you're a kidult. Another term that provokes a chuckle is rejuveniles, found in this article from Intelligent Enterprise Magazine

, which rounds up several other reports on this subject.