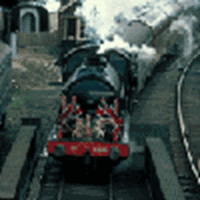 Films spark tourism and travel
January 24, 2004 at 4:10 AM ET
eudaemonia HPANA (via New York Times)

---
With films like Lord of the Rings, Lost in Translation, The Last Samurai, and Cold Mountain sparking interest to travel to respective locations witnessed on the silver screen, many tour operators have responded by creating travel packages to satisfy many a movie fan's fantasy

. And the Harry Potter films are no exception:
Harry Potter has inspired children to visit the barrier between platforms 9 and 10 at Kings Cross Station in London looking for the Hogwarts' Express since 1997, when the first of J. K. Rowling's books was published. A number of tour companies have organized itineraries that include, if not the actual Diagon Alley or Hogwarts School of Witchcraft and Wizardry, then some of the sites, later enhanced by special effects, that were those imaginary settings on the big screen.
Elderhostel was among the first American organizations to come up with tours to Harry Potter sites... where participants explore fantasy themes ranging from Grimms' fairy tales to Alice in Wonderland and Willy Wonka, and learn such skills as how to use of a Marauder's Map and how to play Quidditch (sorry, no flying broomsticks). There are field trips to Blenheim Palace Maze, an owl conservancy and a ride on a vintage steam train, as well as a magical banquet at Christ Church College.


Percy Weasley himself (in the person of Chris Rankin, the actor who plays him in the films) will make an appearance on three tours this spring put together by Beyond Boundaries Travel.... [One] tour created by a trio of Harry Potter fans, will take place June 1 to 6, to coincide with the release of the third Harry Potter film,

Harry Potter and the Prisoner of Azkaban

. Beginning with trips to York and Oxford, the tour winds up with a weekend at the Royal Naval College in Greenwich, again with Chris Rankin joining in, for a final day of Harry Potter activities, culminating in a Hogwarts banquet.

A special mystery guest is promised.
If the latter sounds familiar, it is in fact the HP Fan Trips

that was introduced last October.