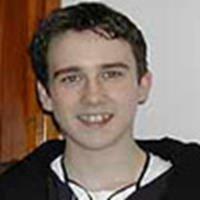 Matthew Lewis chats with fans
January 23, 2004 at 7:40 PM ET
Geri CBBC Newsround

---
Thanks to Matthew at Veritaserum

for letting us know that Matthew Lewis

, who portrays Neville Longbottom in the Harry Potter films, was at CBBC Newsround

where he was Web site guest editor for the day.
He chatted live with fans and his Q&A can be viewed here

. You can also check out his diary entries

and some pictures here

.
Here are two questions that was asked:
Hi Matt, can you tell me how you got into Harry Potter?
Hey, well I was with an agency where I had drama lessons every Thursday for an hour. My agent sent me for the open audition in Leeds (where I live) and after several re-auditions they told me I'd got the part.
Have u ever got the twins mixed up?
For the first film it was every day! But now that I've spent 3 years with them, it's easy to tell them apart!