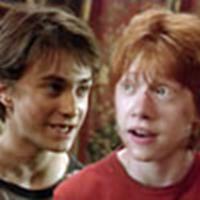 Harry Potter cast apparates for Super Bowl preshow and "Real Access"
January 22, 2004 at 3:57 PM ET
Cheeser HPANA (via PR Newswire)

---
Stars from Harry Potter and the Prisoner of Azkaban will be appearing this month on the Noggin channel's Real Access

. Daniel Radcliffe and Rupert Grint can be seen reminiscing about laughing during their scenes in an online preview video. The show airs January 23 at 9 p.m. and 11 p.m. ET, and again on January 24. (Thanks to The Leaky Cauldron

for the tip.)
Update: You can now view video clips, pictures and a transcript of the episode.
Separately, Nickelodeon announced today

that the cast would be appearing on CBS for the network's Super Bowl special on Feb. 1, entitled Nickelodeon Takes Over the Super Bowl. The show airs at 11 a.m. ET and includes a "how-to-tailgate" segment and some kid-friendly "factoids" about the history of the Super Bowl. Members from the cast of Scooby Doo 2 will show up as well.
Reminder: You'll also want to tune in to watch the actual Super Bowl. It has been rumored that Warner Bros. may show a new commercial for Prisoner of Azkaban.