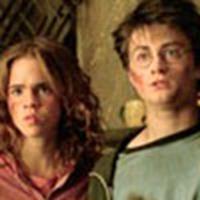 Meeting the kids in 'Azkaban'
January 22, 2004 at 8:17 AM ET
Geri The Leaky Cauldron

---
The Leaky Cauldron

has posted a wonderful report from the set of Harry Potter and the Prisoner of Azkaban from a visit to Leavesden Studios last year. This piece has comments from Daniel

, Rupert

and Emma

.
Here are a few things that they had to say:
Q: What would you say was the most interesting sequence for you to shoot or the most challenging?
Rupert: There's been a lot of good scenes. The one I like is where I did my dragging thing, that was really good, a dog dragging me into the tree. It's when the dog drags me into the tree and I had to have this harness on my leg and was dragged across the ground, it was really fun. That was quite difficult I suppose, because I swallowed a lot of grass.
Daniel: And you had to watch out for the camera as well.
Rupert: Oh, yeah.
Emma: He crashed into the camera quite a lot of times.
Rupert: I kicked the lens of the camera off.
Daniel: The important thing to point out, didn't injure the cameraman!
Daniel: For me the most interesting scene is probably the Shrieking Shack you know, I'm in the scene with Gary Oldman, Alan Rickman, Timothy Spall and David Thewlis all at the same time, it's like, "Oh my god, fantastic!" You now, you're surrounded by absolutely some of the most amazing actors, so that's probably the most interesting. Most challenging — it could have been the same one, it could have been actually the same scene because it is, you do, obviously you're putting in effort all the time, but particularly when youre with Gary Oldman and David Thewlis and Alan Rickman and Timothy Spall, you're going to really, really go for it. So also all the stuff that went on with having my soul sucked out, that's also slightly harder.
Emma: For me like Dan I found the Shrieking Shack was very challenging. It took quite a long time. We were in there for —
Daniel: What, a month?
Emma: More than that maybe. It's such a complex scene, and a lot is happening in it, and so a lot of it kept changing and that was hard and its' all quite emotional really. Well not emotional, but —
Daniel: You feel drained after —
Emma: Yeah you do feel drained.
Daniel: Another thing was that the walls actually leaned and creaked, so we couldn't actually hear what each other was saying
Emma: So we had to do it like doubly loud.
Check out the whole interview here

. An additional interview with Robbie Coltrane will be posted shortly.